Inter-denominational Unity Thanksgiving Service 2012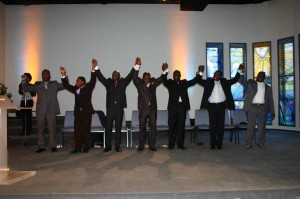 Inter-denominational Unity Thanksgiving Service 2012
On the initiative of the African Representatives, Hamburg Senate Integration Advisory Council, Hamburg is set to witness another " Festival of Love and Unity" an Inter-denominational Unity Thanksgiving Service. The Thanksgiving Service is firstly to commit the plans of the African Representatives, Hamburg Senate Integration Advisory Council and the community onto God's hand and secondly to have the opportunity to celebrate God together as a community united in God once again.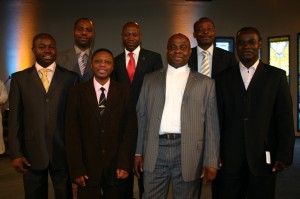 The"Festival of Love and Unity" was first held in Hamburg on Easter Monday 2007, organized by African Heritage Magazine under the wise counsel and the active participation of African pastors in Hamburg aimed at promoting unity among Africans. The service, which was such a huge success, left an impressionable mark on the congregation, which made it refer to the Pastors as "African Pastors of unity". The combined church service, which was the first of its kind, was aimed at bringing Africans in Hamburg, Germany together to worship God as one body, as well as to celebrate the resurrection of our Lord Jesus Christ. The Pastors who conducted the service left no doubt in everyone's mind that they were truly men of God, as they put aside their differences and joined hands to celebrate God in one faith.
The men of God who supported and graced the occasion included Pastor Solomon Enofe, Overseer of the United Church Of God e.V ; Pastor Samuel Jegede, The National Coordinator  Redeemed Christian Church of God (RCCG) Hamburg, now responsible for Germany; Rev. Frank Anane, Pastor of the House of Glory Ministry Int.; Pastor Ossai Okeke, Overseer of the Christ Ambassadors Ministries Int., then Vice-Chairman of the African Christian Council Hamburg, who is now the Chairman of African Christian Council Hamburg; Pastor Yinka Bolaji, Overseer of the Tabernacle of  Meeting Christ Bible Mission Hamburg; Pastor John Amoako, Overseer of the Central Faith Ministry and Rev. Darlington Jacobs, Pastor of the Chapel of Believers Christian Church Hamburg a.k.a (COB: Christ On Board).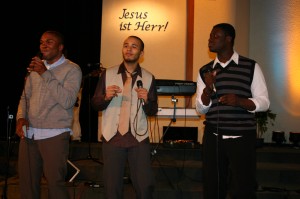 The service is scheduled to take place on Saturday 24th March 2012, from 15:00 – 17:00 Hrs. prompt at the "Wort des Glaubens e.V". Ölmühlenweg 4, 22047 Hamburg (Tonndorfon) is now planned to be an annual event within the community. On the program are special prayers for the community and Germany, Inter-denominational praise and worship and special gospel songs.
A special "Friday prayer" Jumu'ah for our Muslims brothers and sisters  is expected to follow soon.
Kenneth Gbandi /Kingsley Mordi
Direction:
U-Bahn (U1) up to Wandsbek Markt station. Take Bus Nr. 9 in the direction of Rahlstedt and stop at the bus station Ölmühlenweg. Opposite the bus stop is (EDEKA Supermarket). The church is located on the top floor